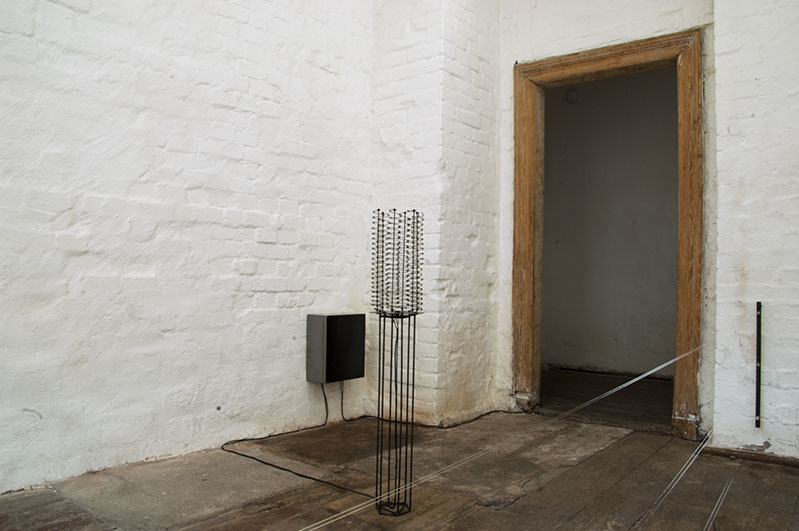 The exercise of power is accepted as endemic to humans as social beings.
C.1:2.12
High voltage generator, heating coils, 5-7 probands
2012
The artwork consists of 3 units which are connected among each other – a high voltage fence, a stand mounted with a push-button and coils, as well as a electric control box. The fence extends from wall to wall, blocking the movement direction in a passage room. It is set in average crotch height. An electric pulse is continuously running through the fence and the coils of the stand. As the button is pressed and as long as it stays pushed, the circuit is interrupted.
The setting created by the artwork resembles a social psychological experiment. The probands are confronted with the fence blocking their way, while the stand unit enables them to pass it without taking the risk of an electric stroke. The stand is not positioned directly at the fence, thus it is not possible to push the button and cross the fence at once. Therefore the artwork not only demands interaction with its units, but as well interaction between the test subjects.
The key point of the setting is the shift in power structure tied to the different conditions of the push-button. The person trying to push it has the most unpleasant position, risking a stroke while entering his arm in the space between the coils. As soon as he reaches the button, he not only eliminates the risk for himself, but gains total control of the over the risks. When the other probands cross the fence, he is the only authority deciding wether there is a risk for them whilst he is willing to take a similar risk. Once the other test subjects have crossed the fence, he drops in the power structure, being at risk while pulling is arm out and being isolated from the rest of the subject group.