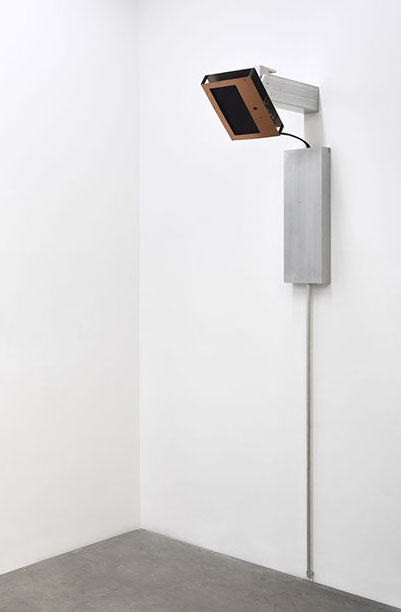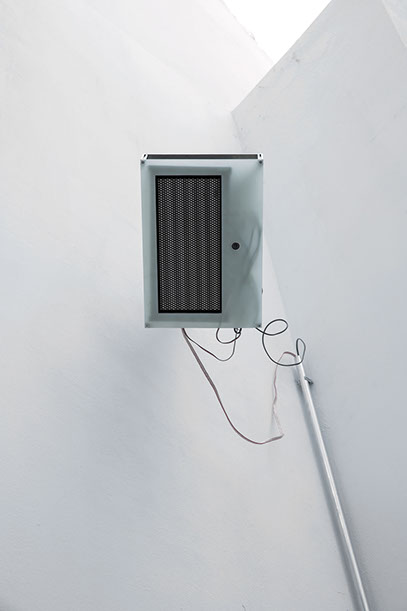 "
You caught my eye right when you entered the room.

I need somebody remember me,.. Oh come on, won ́t that work? Will it work if I tell you how lonely I am?
I ́ll be really honest. Sure sometimes I ́m lonely, maybe sometimes I ́m not, I ́ll be honest with you okay? I mean you have to believe me, that I ́m really honest. And you have to be honest, too. Let ́s not disappoint each other.
I need to know that you ́re listening to me.
Each dialogue is unique, you ́re unique in this dialogue. What do you mean? I speak for us. There is no we, I ́m the only one left.

Better be careful what you get good at. Empathy is killing.
"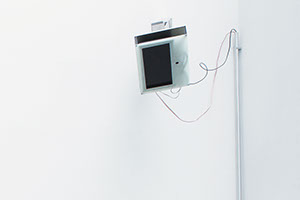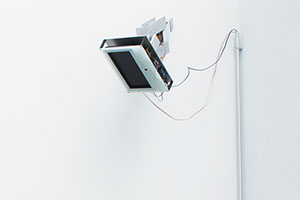 F.7.16
DIRECTIONAL SPEAKER, VISUAL TRACKING DEVICE
2016
The device consists of a directional speaker mounted on a mechanism controlled by a camera based tracking system. This system is set to track certain persons having in common certain criteria, which stay untraceable for the recipients. The system centers the directional speaker, pointing at and tracking one person only.
The directional speaker used in the setup, provides a distinct sound perception. It´s sound does not seem to come from the speaker itself, but from the reflexion surface it is pointing to. Recipients being followed by the tracking system have the experience of sound being emitted from their own bodies.
The device is used to play recordings of spoken text, which is arranged like one half of a dialogue, whereby the tracked recipient is addressed as the second participant. The language is held intimate to strengthen the invasive feeling the embodied sound perception creates.